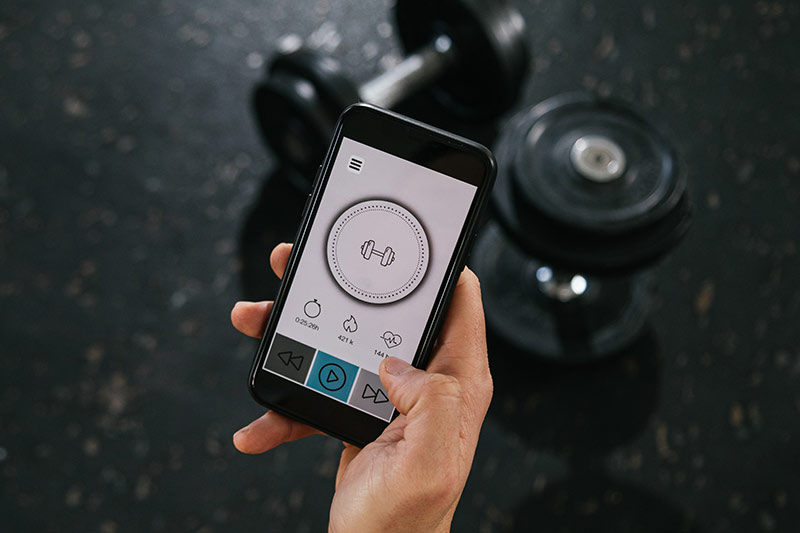 THE FUTURE OF HEALTH AND FITNESS WEARABLES
Wearable Tech – Emblematic of Sports Tech Market Growth
Wearable tech is one of the fastest growing and largest areas of sports technology. It is also emblematic of sports tech's evolving expansion into the adjacent areas of fitness, wellness and health tech. Wearable technology ("wearables") is a general term for a group of devices that are designed to be worn continuously to monitor a variety of health and fitness metrics. Wearables connect to platforms or apps that give the user actionable, timely insights from the data they produce.

The most common wearables are wrist worn (Apple Watch, Amazon Halo, Fitbit, WHOOP, Polar, Garmin) but also come in rings (Oura), skin patches (Biocore Systems, Nix), smart clothing and footwear (NURVV, Arion, Plantiga) or a combination of all of the above. For example, WHOOP's latest generations of device can be inserted into compression shirts, shorts, leggings, sports bras and sports briefs with data captured from the user's torso, waist or calf instead of just the wrist band.
Democratization of Tech
Many of the innovations in wearables aimed at improving elite performance have made their way into consumer fitness and health. As hardware becomes smaller and cheaper, and software becomes more user friendly, it means that everyday people can gain benefits from tech previously only available to pro athletes or special forces soldiers. The ability of a device to be unobtrusive to the user, whilst also providing accurate data, is a significant step forward in the growing adoption of fitness, wellness and health monitoring. Inconspicuous devices are more likely to be worn for longer periods (ideally 24/7) which means better data insights but it also increases the "stickiness" of the product.
Beyond Tracking – Personalised Recommendations Creating Behavioural Change
The ubiquity of continuous health and fitness monitoring present opportunities for a personalised, data driven approach to health optimisation. The COVID-19 pandemic changed how people view their own personal health and fitness journey, with new technology and platforms giving them the ability to take more ownership over what was previously either relegated to "gut feel" or only the domain of high cost and difficult to access medical testing.
This next generation of wearables don't just track isolated data points (e.g. how many steps you've taken), but by applying deep longitudinal analysis including AI, give actionable and timely insights designed to promote behavioural changes. For example how much strain you've put on your body and how much sleep you need to recover. Oura and Fitbit now offer a "readiness score" that help users decide whether it's time for a heavy workout or a rest day. Whoop has a similar strain and recovery score that provides insight on whether a user's body is ready for strenuous exercise. That score is based on metrics such as resting HRV (heart rate variability), respiratory rate, blood oxygen levels (SpO2), sleep quality and overall activity.
Linking your health fitness monitoring to your connected strength workout machine, so the workout can be automatically adjusted based on your current strain and recovery score, is just one of the applications the future of wearables holds
Health & Wellness OS
There's obviously finite real estate for how many wearables a person can use at one time. So the winners in this space will be the platforms that become our health and wellness operating system. Big tech, as with other parts of our lives, are aiming to be that health and fitness OS that keeps users living, working and playing within their ecosystems. All the major big tech players apart from Microsoft have a wearable offering in the market or about to launch one: Apple with Apple Watch; Amazon with Halo Band; Google with Fitbit; Meta (prev. Facebook) with a yet unnamed smart watch.
The consumer subscription SaaS (software as a service) business model of these products is also attractive to traditional technology companies and investors with a clear understanding of scaling customer acquisition and lifetime value. In this respect the regular software improvements generate ongoing user value whilst hardware is a sunk cost.
Offering a holistic platform includes the ability to integrate data from other sources. Linking your health fitness monitoring (eg WHOOP) to your connected strength workout machine (eg Tonal), so the workout can be automatically adjusted based on your current strain and recovery score is just one of the applications the future of wearables holds. The next evolution is using the platform to store and share healthcare data.
Healthcare Is The Next Frontier
There is still a gap between fitness and wellness wearables and the regulated "healthcare" sector led by medical practitioners. Bridging that gap is still an untapped opportunity. As discussed, the health and fitness OS strategy extends to integrating healthcare data and making insights from wearables directly available to medical practitioners. Apple's Health app allows users to "aggregate their health records from multiple institutions alongside their patient-generated data, as well as share their health data with a provider to facilitate richer conversations." The Apple Watch also comes with a "Fall Detection" function. Introduced with the Apple Watch Series 4, fall detection uses the device's built-in accelerometer and gyroscope sensors to detect a hard fall and can auto dial emergency services if needed. The feature is turned on as default for users aged over 55 (users under 55 can manually turn it on) and has reportedly already saved lives.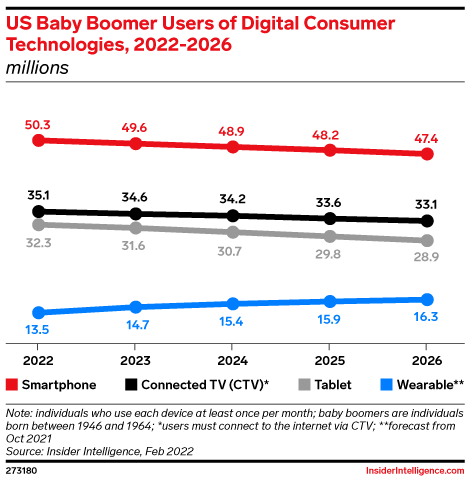 The majority of developed countries are dealing with the issue of providing healthcare for an ageing population. Cashed up baby boomers want to maintain a high quality of health and independence for longer, including staying in their own homes.

Wearable devices will continue to see higher uptake as elderly populations (and their care providers) aim for longer health spans and independence at lower costs.
As with other innovative technology, widespread adoption is not purely a technology problem. Users need to be educated and incentivised to share their personal data with medical professionals. In the same way insurers reward customers for being safe drivers, they can reward customers for being healthier people. In the case of driving, it's through installing a tracking device in the customer's vehicle, for health and fitness metrics the easiest way would be to share data already being captured by the customer's wearable.
WHOOP already gives monthly $100 bonuses to employees who meet an average of 85% or more of their personal sleep needs, as determined by their WHOOP band. Incentivising your staff to perform better at work, take less sick days and generally be healthier (and likely happier) is an obvious win for any company.
These applications are opt in and a user's privacy must be sacrosanct. But for many wearable users that already find benefit in managing their health journey through wearable tech, any additional benefits, at no added burden, present an attractive proposition.
If you are interested in learning more about XT Ventures be sure to reach out to Andrew Fagan, General Partner, directly at [email protected].
ABOUT XT VENTURES
XT Ventures is an Australian headquartered global investment firm with a mission to support exceptional founders and their companies operating at the intersection of sport, fitness, wellness, health and technology. Our first Fund, the High-Performance Fund 1, is conditionally registered as an Early-Stage Venture Capital Partnership (ESVCLP) and is focussed on investing in a diversified portfolio of high tech, high growth start-ups with a capacity to disrupt existing businesses in the sectors of sport, fitness, wellness and digital health.
---
---
The ESVCLP High Performance Fund 1, LP, is conditionally registered and further conditions will need to be met before being able to apply to be registered as a complying and fully registered early stage venture capital fund in accordance with the Venture Capital Act 2022 (Cth). XT Ventures Pty Ltd (XTV) is a corporate authorised representative (No. 001293426) of Polar 993 Advisory Pty Ltd (ACN 649 554 932, AFSL 531197) (Polar Advisory).