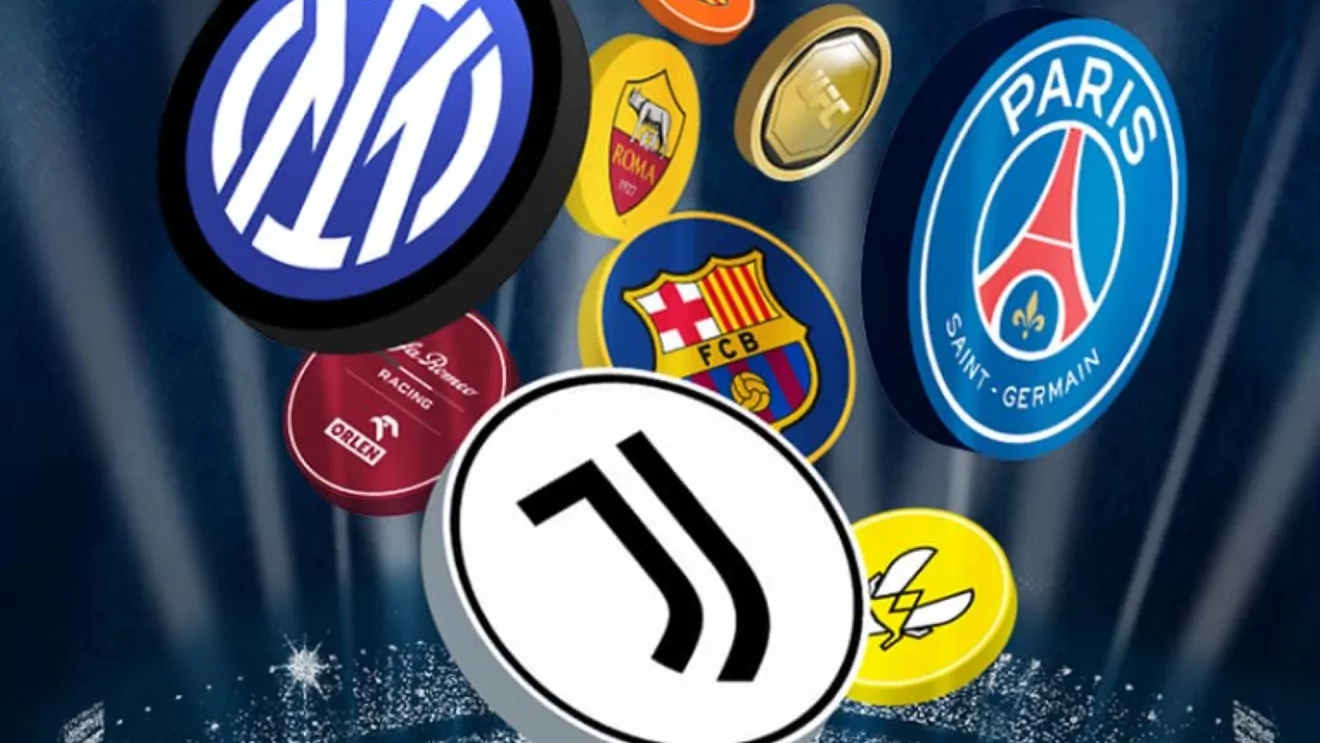 At a time when the sports industry is trying to understand how it engages with a new generation of digitally native fans, blockchain-based solutions are providing sports teams, leagues and organisations with new ways of unlocking latent value whilst retaining fan loyalty. Blockchain is a unique digital trust architecture that has a vast array of utility that can drive engagement, verified ownership and entirely new revenue channels. The most prominent applications of blockchain in sports currently are Crypto Fan Tokens and NFT Digital Collectibles.
Fan Tokens are akin to digital membership cards produced and driven by blockchain technology. These digital assets can be issued by sports organisations through a Fan Token Offering (FTO). Fan tokens are a finite resource that can be bought, traded and sold by users, thus creating a unique economy for the team or league. Tokens can be purchased by a fan and then used for access to unique items such as team merchandise, collectibles, exclusive interactions and more. The FTO gives the team an immediate capital injection on top of traditional membership sales, or as a value-add to traditional memberships.
Fan Tokens are one of the biggest trends to emerge from the partnership between sport and blockchain.
There have been several companies offering various fan token solutions to sports teams and their fans. The most well-known is Socios (run by parent company Chiliz) who have quickly scaled to over 120 partner clubs, with high profile athletes including Lionel Messi becoming an ambassador.
One of their partner clubs, FC Barcelona, sold out their $1.3 million first round of fan tokens in less than two hours. FC Barcelona supporters were able to acquire the first 'Barça Fan Tokens' ($BAR) to take part in surveys and polls connected to the everyday activities of the Club. Other football clubs who have used fan tokens include Juventus and Paris-Saint Germain with local Australian NRL clubs South Sydney Rabbitohs and St George Illawarra Dragons launching their own fan token initiatives.

NFTs – Digital Collectibles
Digital collectibles, in the form of non-fungible tokens (NFTs) are unique digital assets that are backed by blockchain technology, giving them additional security, verifiable ownership and immutability to the owner. Digital collectibles cannot be copied, destroyed or forged and can be uniquely tracked in a transparent manner to prove ownership. They elicit demand by their ability to be provably unique or rare and as such drive consumer interest as collectibles.
NFTs – Use Cases
Most major sporting leagues, including the NBA, NHL, NFL and MLB, have been quick to adopt this technology and implement their own officially licensed NFT platforms. The most noteworthy of these is the NBA's Top Shot platform, where fans can buy and sell numbered versions of specific, officially licensed video highlights. It generated over USD$750M in sales in 2021 with its creator, Dapper Labs valued at USD$7.6Billion. 
The English Premier League is also auctioning off its first NFT license. Multiple parties are reported to be interested in the opportunity to produce digital collectibles for the League, including established global players, Dapper Labs and Sorare. The highest bid is reported to be close to USD$600M over four years.
Locally, the Australian sports landscape is also embracing the NFT craze with the AFL announcing NFTs of memorable moments, including Buddy Franklin's 1,000 goal. A 20% revenue share from AFL NFT sales will be going to the AFL Players Association to ensure players get their cut. Tennis Australia (TA) successfully launched a NFT and metaverse initiative at the 2022 Australian Open (AO).

TA partnered with Decentraland, Run it Wild and Metakey to create 6,776 NFT Art Balls, produced from an algorithmic combination of different colours, patterns and textures. Each ball represented a 19cm by 19cm plot of tennis court surface randomly assigned when each NFT is minted. Every time a winning shot landed in that plot during a match the relevant NFT was updated in real time with match and ball tracking data providing a significant and memorable way for fans to engage with the event. Over a week period, resale trade value of these balls clocked at US$3.9 million.
Some Important Considerations
The rise of NFTs and fan tokens in the sports industry has not come without controversy. Many fans have viewed fan tokens as just another way for their clubs to extract money from them, without gaining much value in exchange. Fans have also noted that some tokens have dramatically dropped in market value since their early release in-line with the market crashes of crypto currencies including Ether and Bitcoin.
Whilst NFT's and Tokens do have the potential to appreciate in value over time, fans should make a conscious choice as to whether they view them for their utility (e.g. unlocking access to partner discounts, redeeming an exclusive VIP experience, voting on club decisions, accessing exclusive events or content) or as an investment asset with the associated risks of losing market value.
Future Growth
The application of blockchain technology in sport is still in its infancy but it has enormous room for growth and the ability to act as a cornerstone for innovation within the ecosystem. New use cases being explored include using blockchain to optimise and innovate player identity/medical data and automated smart contracts. Sport should continue to explore and embrace these opportunities but only once they clearly understand their strategic objectives, associated business and commercial reasoning, and the desired engagement drivers from fans.
While teams need to be cautious with how they introduce and integrate blockchain into their organisation and fan channels, the potential to not only generate new revenues for teams while also building a new level of fan interaction offers a bright future for both sports and their fans.
---
---
Written by Luke Santamaria
Luke is the CEO and Co-Founder of Sparkup Studios who build gamified loyalty solutions for the sports industry, including SportzFan, a blockchain rewards platform that gamifies the fan experience to allow sports organisations to better connect with, understand and monetize their fan audiences.
---
If you are interested in learning more about XT Ventures reach out to Andrew Fagan, General Partner, directly at [email protected].
ABOUT XT VENTURES
XT Ventures is an Australian headquartered global investment firm with a mission to support exceptional founders and their companies operating at the intersection of sport, fitness, wellness, health and technology. Our first Fund, the High-Performance Fund 1, is conditionally registered as an Early-Stage Venture Capital Partnership (ESVCLP) and is focussed on investing in a diversified portfolio of high tech, high growth start-ups with a capacity to disrupt existing businesses in the sectors of sport, fitness, wellness and digital health.
---
---